Influence and Connection

Course type: 60 Minute Live eWorkshopDate | Time Offered (ET): Friday May 18, 2012 | 12 Noon ETSpeaker: Jane Perdue, Braithwaite Innovation GroupPrice: $49.95 (Limited to 6 participants)

---
"The key to successful leadership today is influence, not authority." ~Kenneth Blanchard

In today's "new normal" of business practices, the ability to use influence to affect outcomes and achieve results is a "must have" skill in every leader's toolkit.

Influence impacts both one's professional and personal relationships; and when used in a win-win manner, as opposed to I win-you lose manipulation, having the ability to positively influence others will distinguish you as a great and effective leader.

Influence is determined by one's ability to make an appeal for action based on logic, emotion or a sense of cooperation, or some combination of all three. Your ability to successfully get work done with and through other people is shaped by your learned skills in being influential.

In this live eWorkshop, you'll learn:
What influence is and how to use it effectively
The push and pull styles of influence
Your personal default way of influencing (via an assessment)
Which influence style works best depending upon your desired outcome
How you'll benefit
Develop a greater understanding of your personal influence style
Expand your leadership toolkit to get work done with and through other people
Grow your comfort zone by knowing when to switch between influence styles
Have the opportunity to ask questions of the session facilitator as well as tap into the personal experiences of your fellow eworkshop participants
Who should attend
Individuals working in business as well as those in non-profits, community groups, etc., who need to influence others
Anyone seeking to be a better leader, particularly in circumstances where you don't have direct responsibility over people yet have a stake in outcomes
Those on a voyage of self-discovery and increased personal effectiveness
Special note: Class size is limited to six people to maximize learning and connection via voice-to-voice exchange and discussion. While written chat may be used (if that's your preference), everyone gets microphone access. Past sessions conducted this way have been full of rich dialogue and sharing. Do register early as this eworkshop fills up fast!
Workshop Materials
Session participants receive an influence style assessment (allows you to learn your default influence style in advance) and workbook in advance of the eWorkshop.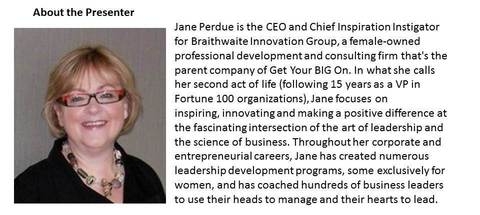 "You don't have to be a 'person of influence' to be influential. In fact, the most influential people in my life are probably not even aware of the things they've taught me." ~Scott Adams
Sign up for the BIG newsletter!
You'll find inspiration and information on leadership and women's issues as well as workplace tips and pointers in our enewsletter. Subscribe now! Our Privacy Policy affirms our commitment to never, ever sell your email.