Charting My Course
Type: Monthly one-on-one coaching
Date and Time Offered: Individual schedule
Your Coach: Jane Perdue
---
Feeling a little, or maybe a lot, uncertain about the direction your professional and/or personal life is taking? Not clear on what you want to do with your life? Feeling a calling to do something more? Is the one thing you're sure of is that it's time to regroup and re-assess what's important to you?

Charting My Course is an intensive 12-month long program designed to help you sort through your likes, dislikes, talents and interests, all focused on understanding your life purpose.

Through exercises, assessments, reflection and discussion, you'll gain clarity and focus on where you want to direct your professional and personal energies. Whether your goal is to snag that promotion to the corner office or to devote more time to self-care or assisting others, you'll create an action and accountability plan for making your goal a reality.

Be prepared to stretch your comfort zone. Get ready to stare down your inner critic. Expect to first feel uncomfortable, then exhilarated as you chart your course for professional and personal fulfillment.

What you'll learn, do and gain from participating in Charting My Course:
Identify what you value and what's holding you back from making your wishes and dreams real
A clear understanding of what you want to do with your life -- and what legacy you want to leave behind
An action and accountability plan for transforming your hopes and desires into tangible reality
Charting your course creates direction. Direction produces focus. Focus leads to productivity. Productivity leads to outcomes and increased self-confidence. All win-win outcomes! Send an email today to learn more, set-up your schedule of telephone coaching sessions, and get started in sorting out the direction of your life!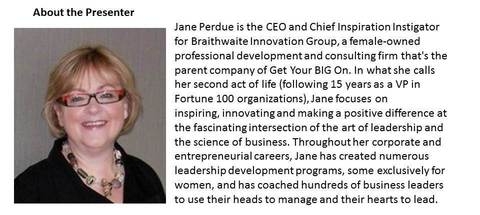 Sign up for the BIG newsletter!
You'll find inspiration and information on leadership and women's issues as well as workplace tips and pointers in our enewsletter. Subscribe now! Our Privacy Policy affirms our commitment to never, ever sell your email.