Tell Me About It
Key elements of the Get Your BIG On philosophy are giving back, making a positive difference, educating and connecting. Twice a month or so we showcase either an organization or individual who serves others; or we share articles, resources, etc., about giving or volunteering so you can be inspired to make your own lasting contribution.
Go make a difference today!
---
As a survivor of child sexual abuse, Svava Brooks is passionate about personal growth and is committed to helping people break the silence around the issue of child sexual abuse. She and her twin sister run Blatt Afram, an organization dedicated to preventing and educating Icelanders about child sexual abuse. Their organization has successfully raised hundreds of thousands of dollars and created a variety of sexual abuse prevention programs, utilizing and working with other organizations such as Darkness to Light in South Carolina and Kids on the Block in Washington, DC.
---
If you want to volunteer but don't know where to offer your help, use this site to find great volunteer opportunities in your own neighborhood or across the globe.
---
On Biography Online, Tejvan R. Pettinger has compiled an interesting list of 100 people whom he believes "have made a difference to the world in a positive way." Tell the BIG team who else you would add to the list!
---
---
Want to do something that helps others yet don't have a lot of cash? Here you'll find 50 ways to give back that don't break the bank. Go for it!
---

2012 is the 100th anniversary of the Girl Scouts of America. Founded a century ago by Juliet Lowe who had a vision for creating women leaders, this organization is still going strong and creating excellent opportunities for girls from all walks of life. "When girls succeed, so does society."
---
For many reasons both personal and professional, this nonprofit is close to Get Your BIG On's heart. Their site provides both great ways to Give BIG as well as great tips for being heart healthy! As we move forward with keeping our resolutions alive in 2012, this is one more helpful resource to help us get and stay healthy.
---
What a clever, creative and compassionate way to mix philanthropy with doing business! Your promotion and/or message gets posted online; then, it's transformed offline into a traveling interactive outdoor installation. And best of all, 50% of all online submission proceeds are donated to St. Jude Children's Research Hospital. Great role modeling!
---

---

Making a Way for New Lives & New Hope: Krochet Kids
Wow, talk about an effort that makes your heart melt and swell at the same time! Started in 2007 by three college guys who wanted to change the world, Krochet Kids provides fair-wage crocheting jobs to women in Northern Uganda and sells their wares online and in stores around the country (like Nordstrom). The profits are then returned to Uganda to sustain their programs, enabling women to provide their families with the food and living materials necessary to break the cycle of poverty. Currently more than 150 artists and craftswomen and their families are achieving economic stability thanks to Krochet Kids' reach.
---
The BIG team doesn't live anywhere near Washington, but we're impressed with the mission and 40-year history of So Others Might Eat, an interfaith, community-based organization that meets the immediate daily needs of the people they serve by providing food, clothing, and health care. They are focused on helping to break the cycle of homelessness by offering services like affordable housing, job training, addiction treatment, and counseling to the poor, the elderly and individuals with mental illness. So Others Might Eat works to restore hope and dignity one person at a time.
---
The Make-A-Wish Foundation is a favorite with the BIG team. We love how enrich the lives of children with life-threatening medical conditions through their wish-granting work. In the spirit of giving, consider brightening the life of a small child, either through making their wish possible or by referring an ill child into the program.
---

---
Joyfully watching several monarch butterflies skitter and dance through our area on their southward migration reminded us of the work of Homero Aridjis, poet, novelist, environmental activist. Aridjis foundes the Group of 100 – an association of prominent artists and intellectuals – responsible for persuading Mexico's president to issue a decree creating the Monarch Butterfly Biosphere Reserve, an area 60 miles west of Mexico City that hosts the majority of overwintering monarchs from the US east of the Rockies and Canada. Thank you!
---
For the Love of Children is a national organization that helps very special kids. The organization helps provide everything from basic essentials to prom wear. For Love of Children (FLOC) provides educational services beyond the classroom to help students succeed from first grade through college and career. FLOC brings together students, volunteers, families, and community partners in proven programs that teach, empower, and transform.
---
Children's Hunger Alliance is a statewide nonprofit organization committed to feeding hungry minds and bodies and raising awareness of childhood hunger through education, advocacy and service, so children will be well nourished, healthy and thrive.
The agency provides programs that directly feed children nutritious meals, educate them and their families about healthy eating, and engage children in physical activity. Children's Hunger Alliance also positively impacts schools, community, faith-based organizations, home-based child care, and after-school providers in making positive use of federally-financed child nutrition programs.
---

While researching employee recognition, we discovered this little jewel of a work from Louisiana State University. It isn't glitzy yet it's full of heart. While the focus of the piece is recognizing volunteers, the ideas presented here are applicable anywhere, any time you want to say thank you to someone who's made a difference. Remember to thank someone today - you'll make their day, and yours!
---
Overcoming Addiction: ONE80TC
ONE80TC, based in New South Wales, Australia, understands it takes support, direction and love to break the chains of addiction and other life-controlling behaviors. Their team has applied this understanding for over thirty five years, helping thousands of 18–35 year-olds to take control and get on with their lives. Kudos for making a difference!
---

---
Don Wilson, the proprietor of Wilson's Soap Company located in Philadelphia, PA, makes soap the old-fashioned way - by hand, using natural plant-based essential oils. Their handmade process generates lots of end pieces. Rather than rebatch those small slices, they either donate them to local homeless shelters or watch Craigslist for people looking for donations. In the past year Wilson's has donated 1,000 bars of soap, including 200 which were sent to Haiti. Love how they mix sustainability and kindness!
---
An estimated 1.35 million children are homeless in the US, and 40 percent of them are under age five. Project Night Night delivers big comfort in a small package—a canvas tote filled with a blanket, a stuffed animal (some repurposed as a kindness to the environment), and a new book. Even kids in the toughest situations benefit from some security and coziness, and most importantly, the acknowledgement that they're significant and worthy of care.
---
The Gift of Reading & Doing Good, Too: Better World Books
As they describe themselves, Better World Books is a "global bookstore that harnesses the power of capitalism to bring literacy and opportunity to people around the world." They are triple bottom line focused (financial, social and environmental) and believe profit is not the only way to measure business success, saying people matter as does the planet. To-date, Better World Books has raised $10 million for global literacy, reused or recycled 57 million books, kept some 8,000 tons of books out of landfills, and reclaimed more than 720,000 pounds of metal shelving from libraries across the United States. Plus, they use their carbon offsets to support the Tatanka Wind Farm, the largest renewable-energy project in North and South Dakota. The wind farm generates enough clean energy to power more than 60,000 homes. And still more: if you buy their newest book, they'll give one away to someone in need. That's walking the talk!
---
Mi Casa Resource Center is a nonprofit human services group assisting Latino families in Denver, Colorado. Their mission is helping people achieve economic success and is based on a three-part strategy: career, business, and youth and family development. Mi Casa created a family resource center with programs for adults and children focused on achieving professional, academic, and business success. For 34 years, Mi Casa has worked to increase the employability, education, knowledge and life skills of the individuals they serve by providing highly relevant and effective programs as well as supportive services that address each person's unique challenges. 83 small businesses have been launched with Mi Casa's assistance. Kudos!
---

---
The National CASA Association is a network of 955 programs that recruit, train and support volunteers who represent the best interests of abused and neglected children in the courtroom and other settings. CASA volunteers are appointed by judges to watch over and advocate for abused and neglected children to assure they don't get lost in the overburdened legal and social service system or languish in inappropriate group or foster homes. Volunteers stay with each case until it is closed and the child is placed in a safe, permanent home. For many abused children, their CASA volunteer is the one constant adult presence in their lives. Kudos for making a positive difference!
---
Resource for Finding Groups Needing Your Help: Volunteer Match
"Ah, if I only knew where to be a volunteer," sighed a colleague at a recent event. "I'd be happy to spend some time helping out." Search no more! Volunteer Match is a nifty website that will point you to a whole host of volunteer needs...right in your own community! All you have to do is enter your zip code and a word or so about the volunteer opportunity you are seeking...and you are off!
---
With three-quarters of the world's population expected to be living in cities by 2050, four urban experts consider the projects that have made a positive difference to those living in cities. This four-minute video posted on Phaidon shines a light on several projects where cities across the globe have regenerated, improved or made more sustainable. Some good food for thought.

---
Harvard law attorney, Dr. Raye Mitchell, left her private law firm to dedicate herself to inspire and empower young girls (ages 8-18) to live their lives to the fullest as future global leaders. In 2007, she formed The Making a New Reality Foundation. The G.U.R.L.S. Rock Leadership Program, a part of the foundation which stands for "Growth, Unity, Respect, Leadership, Success", was launched in 2010. "We need to change the conversation about how we define and engage girls as leaders. Their story is not all negative statistics," said Mitchell. The program's goal is to raise the bar of excellence for girls in order to break down the barriers to their success. Dr. Raye sees future leaders in these girls and invests all of her energy into a positive program for their personal development. You go, Raye!
---

---
What a great way to do fundraising! Filanthropists.com is a one-stop online shopping mall where you can purchase cause-related products. Founded by North Jersey mom Filomena Laforgia in July 2010, four years after her three-year old son was diagnosed with autism, the site features a variety of products from merchants as well as local and national organizations. All participating companies are committed to supporting fundraising efforts for a designated cause. The site's name not only plays on the founder's first name, but also shows how a socially conscious individual can make a difference through the simplest of acts. When we buy a cause-related product, we can all be "Filanthropists!"
---

Changing How the World Tackles Poverty:
Acumen Fund
The mission of the Acumen Fund is to create a world beyond poverty by investing in social enterprises, emerging leaders, and breakthrough ideas. Jacqueline Novogratz, founder and CEO of the Acumen Fund, authored The Blue Sweater, the memoir of her quest to understand global poverty and to find powerful new ways of tackling it. It's a powerful read.
From her first stumbling efforts as a young idealist venturing forth in Africa to the creation of the trailblazing organization she runs today, she creates a series of insightful stories and unforgettable characters — from women dancing in a Nairobi slum, to unwed mothers starting a bakery, to courageous survivors of the Rwandan genocide, to entrepreneurs building services for the poor against impossible odds.
---
Support Your School While You Shop, Eat and Play: edRover
Need to raise funds for your local school? If so, Tania Mulry can help. This mother of three had grown frustrated by the constant flow of fundraising requests from her boys' school, yet she couldn't stand not supporting teachers because they spend hundreds of their own dollars every year to purchase classroom supplies. Tania knew there had to be a better way, so she devised, designed and developed edRover, a new mobile app that pairs companies' needs to attract loyal consumers and educators' needs to obtain supplies for their students. The app is available for free through the iTunes App Store. Each time a consumer uses the edRover app to make a purchase from their mobile phone from one of the participating online retailers or checks-in at one of the bricks-and-mortar locations, a donation is directed from the retailers' account to purchase schools supplies for the classroom or for the program selected by the app's user.
---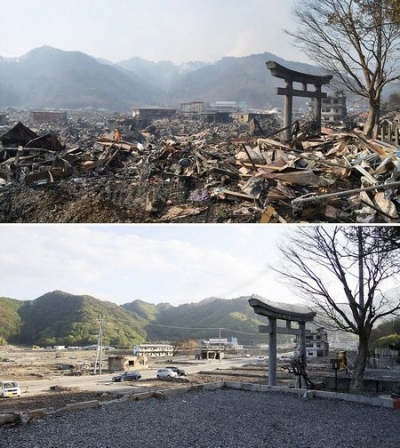 Otsuchi, Japan and Fort Bragg, CA are sister cities. A young Japanese man whose father was lost at sea sat on the Otsuchi headlands waiting for his father to return. Eventually, the young man wondered what was on the other side of the ocean from him. To find out, he followed his city's latitude across the Pacific to Fort Bragg, California. He made contact, and the result was that the two communities became sister cities. 2011 marks the 10th anniversary of the formation of the program.
Otsuchi was completely destroyed by the 3/11/11 9.0 earthquake and its aftermath. Sharon Davis, coordinator for the Fort Bragg sister city exchange program, lead the creation of the Otsuchi Recovery Fund. She created a Facebook group for the sister city program as a place to share information and raise funds. So far, they've raised over $75,000. Not bad for a little community of just over 8,000.
---

---
Many of us take books for granted. Yet most African school children have never owned a book, a tragedy that Books for Africa is trying to change. Since 1988, they've shipped more than 20 million books to 45 countries, putting books in kids' hands and filling school library shelves with atlases and encyclopedias (and thus reducing the cost of education). Visit their site to find out how you can help!
---
Getting Your Second Chance: Tracy Lewis
Tracy Lewis faced many personal obstacles before realizing her dream of becoming an author and a speaker. Her mission is to help those who are hurting. Through her speeches and writing, she strives to give people a second or sometimes a third or fourth chance to make it. Her goal is encouraging people to move past what is holding them back. She works with those who are willing to try again and who believe they worthy of having an opportunity for another go.
---
"People who work for good causes have a moral obligation to be extremely efficient and effective at what we do, right this minute. What gets me motivated and energized is to help well-intentioned people to do that every day, through innovative marketing, strong human engagement, social media and online outreach." Motivating, isn't it? Take a quick minute and check out Katya's blog where she provides excellent insights for making an impact - doing good better and faster.
---
Reducing the Financial Impact of Cancer:
Geaux Past Cancer
This Tell Me About It Tuesday is a personal one for me (Amy). I was introduced to Geaux Past Cancer by my friend, Staci Pepitone, whose light in life shined very brightly. Geaux Past Cancer, located in Baton Rouge, LA, is dedicated to helping reduce the financial impact of cancer treatment. A special area of focus is assisting patients who must travel away from their home for their treatments. Their mission is to provide support to cancer patients during their treatment. Feel good and do good by donating (if you can) to this great organization.
---

---
Making A Difference in Women's Lives Every Day: Center for Women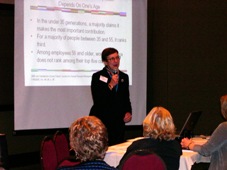 BIG salute the Center for Women, a 501(c)3 non-profit organization in Charleston, SC whose mission is to make personal and professional success an everyday event for women. The Center connects thousands of women to professional sources for practical help by providing educational programs on important issues such as small business development, leadership skills, financial literacy, life transitions, discrimination of all types, multiculturalism, family issues, career, and networking. As Jennet Robinson Alterman, Executive Director for the Center for Women says, "One thing we know for sure is that women deserve equal pay and equal rights."
---

Thousands of children and adults need eyeglasses but can't afford them. In developing countries, the cost can be equivalent to a year's salary. Vision problems affect one's ability to read, succeed in school, and keep a job. New Eyes for the Needy purchases new prescription eyeglasses for poor children and adults living in the United States and recycles donated glasses for distribution to indigent people overseas. Since they started in 1932, more than 7 million people have been helped. While many Americans get new glasses every few years, New Eyes often provides the only pair of glasses a needy person will ever have.
---
Breaking the Cycle of Unemployment and Poverty:
Second Chance
Scott Silverman is the Founder and Executive Director of Second Chance, a multimillion dollar non-profit which runs the most successful STRIVE job readiness training program in the world. Scott, a CNN Hero Award recipient, strongly believes that rehabilitation is a stronger solution than re-incarceration. Over the past 15 years Second Chance has assisted more than 24,000 economically disadvantaged and homeless persons in San Diego gain employment and leave poverty, gang affiliations and crime behind.
---
Looking for insights from a wide variety of people on how to be a really good volunteer? If you are, you'll find How to Be a Kick-Butt Volunteer a great resource. There are tips, pointers and insights from people in all walks of life on what motivates them to give of themselves and how they do it, saying, "It is a selfless privilege, not a duty or right, to be able to help others." One contributor even offers up the ten commandments for volunteering. Enjoy!
---

Sign up for the BIG newsletter!
You'll find inspiration and information on leadership and women's issues as well as workplace tips and pointers in our enewsletter. Subscribe now! Our Privacy Policy affirms our commitment to never, ever sell your email.