Recharge Your Moxie
Course type: 60 Minute Live eWorkshopDate | Time Offered (ET): Tuesday December 13, 2011 | 2:00 PMSpeaker: Jane Perdue, Braithwaite Innovation GroupPrice: $24.95
---
Do your creative thinking skills need a reboot? Could your problem-solving skills benefit from some new zest and zing? Brain research reveals that stress in women affects their cerebral cortex which is home to their creativity and problem-solving abilities.
This fun and fast-paced workshop will help you pick up some new brain science-based tips so you can recharge your creativity and problem-solving moxie (one's ability to face difficulty with spirit and courage)!
In this live eworkshop, you'll learn:
How to recognize the signs of stuck thinking

5 tips for boosting creativity (it's a learned skill!)


5 methods for turbo-charging your problem-solving abilities



How You'll Benefit
Come away knowing the power of rethink, reframe and renew

Be armed with tools to bolster your resilience

Expand your comfort zone


Think more creatively in your problem-solving

Be a better-equipped leader of yourself and others
Who should attend
Individuals feeling stuck in a rut and looking for a creative way out

Anyone seeking to be a better leader either for yourself or if your organization values creativity and innovation

Those on a voyage of self-discovery and increased personal effectiveness
Workshop Materials
Participants will receive a workbook in advance of the workshop.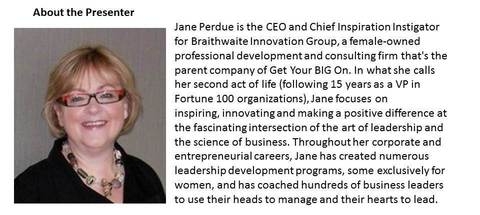 My alphabet starts with this letter called yuzz.
It's the letter I use to spell yuzz-a-ma-tuzz.
You'll be sort of surprised what there is to be found
Once you go beyond 'Z' and start poking around!
~Dr. Seuss
Sign up for the BIG newsletter!
Looking for the latest on leadership, inventrepreneurship and women's issues? Sign up for our fun, informative and thought-provoking enewsletter! Our
Privacy Policy
spells out our commitment to never, ever sell your email.