Learning to Lead Up
Course Type: Live Online eWorkshop | 90 minutes Date |Time Offered (ET): Tuesday, November 29, 2011 | 10:00 AMSpeaker: Jane Perdue, Braithwaite Innovation GroupPrice: $24.95
---
Are you seeking to expand your sphere of influence up, down and/or across the organizational structure within your company?
Would you like to better connect and communicate with your boss and your boss's boss?
Do you work within a matrix-ed organization and have accountability for overall outcomes yet lack the direct report responsibility of those crucial to securing the results?
If so, you'll find solid answers and helpful, practical advice in this skills and competency-based improvement workshop.
"Leading up is the act of working with people above you — whether one boss, several bosses, a chief executive, a board of directors or even stockholders — to help them and you get a better job done." ~Michael Useem, Wharton professor who first coined the phrase "leading up"
Leading happens up, down and across in organizations, groups, communities or any other capacity where one serves as a formal or informal leader. Most of us are more familiar and comfortable with leading down to our employees, teams and/or direct reports. That ease isn't surprising given there's a level of direct control that's involved. What gets trickier is leading across or up within an organization when you don't have direct control. That's when leaders must manage both task completion and relationship building through influence.
This 90-minute interactive workshop focuses on influencing your boss and on up the ladder: how to do it skillfully, gracefully and effectively.
What You'll Learn
Five crucial connections to make and maintain for leading up

Day-to-day tactics for successfully working with the people above you

How to increase your sphere of influence and visibility

How You'll Benefit
Greater understanding of the knowledge, skills and abilities involved in leading up

Greater awareness of the importance of "thinking less about me and more about we"

Improved skills for connecting with and influencing the people above you

Knowledge of the pitfalls that can wipe out your ability to lead up
Who Should Attend
Individuals newly-promoted into supervision/management (and/or those who work in non-profits, community groups, etc.) who need to understand how important it is to build effective communications with the people above them

Anyone seeking a promotion and who needs to get on the organization's radar screen

Those on their own voyage of self-discovery, personal improvement and increased effectiveness and influence
How the Workshop Works
The 90-minute session will combine lecture, Q & A, polling and chat.
If you'd love to attend this workshop yet this date and time aren't convenient for you or if you would like us to do this seminar for your organization, please drop us a line.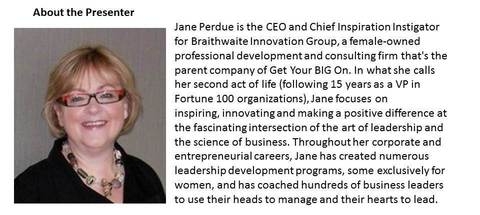 Use your head to manage and your heart to lead. ~Jane Perdue
Sign up for the BIG newsletter!
Ready to read the latest on leadership, women's issues, and workplace tips and pointers? Sign up for our informative and thought-provoking
enewsletter!
Our
Privacy Policy
affirms our commitment to never, ever sell your email.