Kevin Eikenberry
Author, Chief Potential Officer at The Kevin Eikenberry Group
Kevin Eikenberry leads BIG. After nearly 18 years of running a successful leadership, coaching, and consulting business, Kevin had a BIG idea.
He and his colleague Guy Harris were designing a new supervisor training workshop to deliver across the country when they got the idea for their new book, From Bud to Boss. Wanting to extend the usefulness of both the book and the workshop, Eikenberry and Harris also created the Bud to Boss Community, a place where people can find resources and relationships to encourage them in their leadership journey.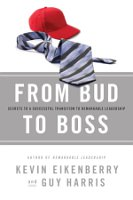 Tell us about the book.
From Bud to Boss: Secrets to a Successful Transition to Remarkable Leadership is written for three groups of people: people who are transitioning to their first leadership position, people who are looking for their first promotion to leadership, and people who want to develop others as leaders. It is written as a practical guide book with action steps and self-assessments. We want people to do more than read the book – we want them to live out the principles in the book.
Tell us about the Community.
We wanted to find a way to add value to people beyond a book. Leadership transitions are tough. Many times, people don't get the support, encouragement, and training they need. We hope that the community will provide resources and relationships to help people grow as leaders. We will provide learning resources as well as a place for people to interact and share their stories, struggles, and experiences as leaders. Within the community, we offer Bonus Bytes, additional content linked to specific sections of the book.
What motivates you?
More than anything else, I want to help people become better leaders. Leaders can change the world for the better. Beyond that, when you become a better leader, you become a better person. All of the skills we talk about with people related to improving their leadership skills can be applied in other areas of life as well. When people learn communication or conflict resolution skills, those skills enrich their lives in other ways.
I believe that every person and every organization has extraordinary potential. I encourage people to invest time, energy, focus, and money to realize their potential.
A little more about Kevin…
Kevin is also is the creator and content developer of The Remarkable Leadership Learning System, a continual leadership development process focused on developing the thirteen competencies of remarkable leaders with virtually delivered content to leaders worldwide.
He previously published several other books including Remarkable Leadership: Unleashing Your Leadership Potential One Skill at a Time and #LEADERSHIPTweet.
Subscribe to our enewsletter!
You'll find information and inspiration on leadership as well as workplace tips and pointers in our monthly enewsletter. Subscribe now! Our Privacy Policy affirms our commitment to never, ever sell your email.