We (the team at BIG) are just loving this poignant story from author Dr. Herbert O'Driscoll. Tells so much, so fast, so we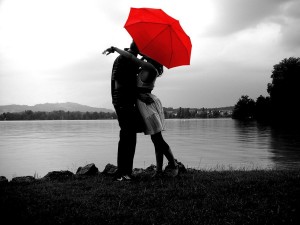 ll, so softly.
'When I was a child, my grandmother died and was buried in the churchyard in Castlecomer, Ireland. The following year I went there on holiday. One day we drove to visit relatives, I in the back seat with my grandfather.
As we passed the graveled driveway leading up to the churchyard, my grandfather, thinking he was unobserved, pressed his face against the window of the car and with a small, hidden motion of his hand, waved.
It was then I came to my first understanding of the majesty and vulnerability of love."
Who will you let know today that you love them?
_________________________________
Some quotes about love to inspire what you do!
"To love is to be vulnerable." ~C.S. Lewis
"I have found the paradox, that if you love until it hurts, there can be no more hurt, only more love."  ~Mother Teresa
"We come to love not by finding a perfect person, but by learning to see an imperfect person perfectly." ~Sam Keen
"I love you, not for what you are, but for what I am when I am with you." ~Roy Croft
"The opposite of love is not hate, it's indifference. The opposite of art is not ugliness, it's indifference. The opposite of faith is not heresy, it's indifference. And the opposite of life is not death, it's indifference." ~Elie Wiesel
"Every heart sings a song, incomplete, until another heart whispers back." ~Plato
"Love takes off masks that we fear we cannot live without and know we cannot live within." ~James Baldwin
"I am nothing special, of this I am sure. I am a common man with common thoughts and I've led a common life. There are no monuments dedicated to me and my name will soon be forgotten, but I've loved another with all my heart and soul, and to me, this has always been enough.." ~Nicholas Sparks
"Love can never grow old. Locks may lose their brown and gold. Cheeks may fade and hollow grow. But the hearts that love will know, never winter's frost and chill, summer's warmth is in them still." ~Leo Buscaglia
"When the power of love overcomes the love of power the world will know peace." ~Jimi Hendrix
"Love is what we were born with. Fear is what we learned here." ~Marianne Williamson
Photo credit: AspieWeb